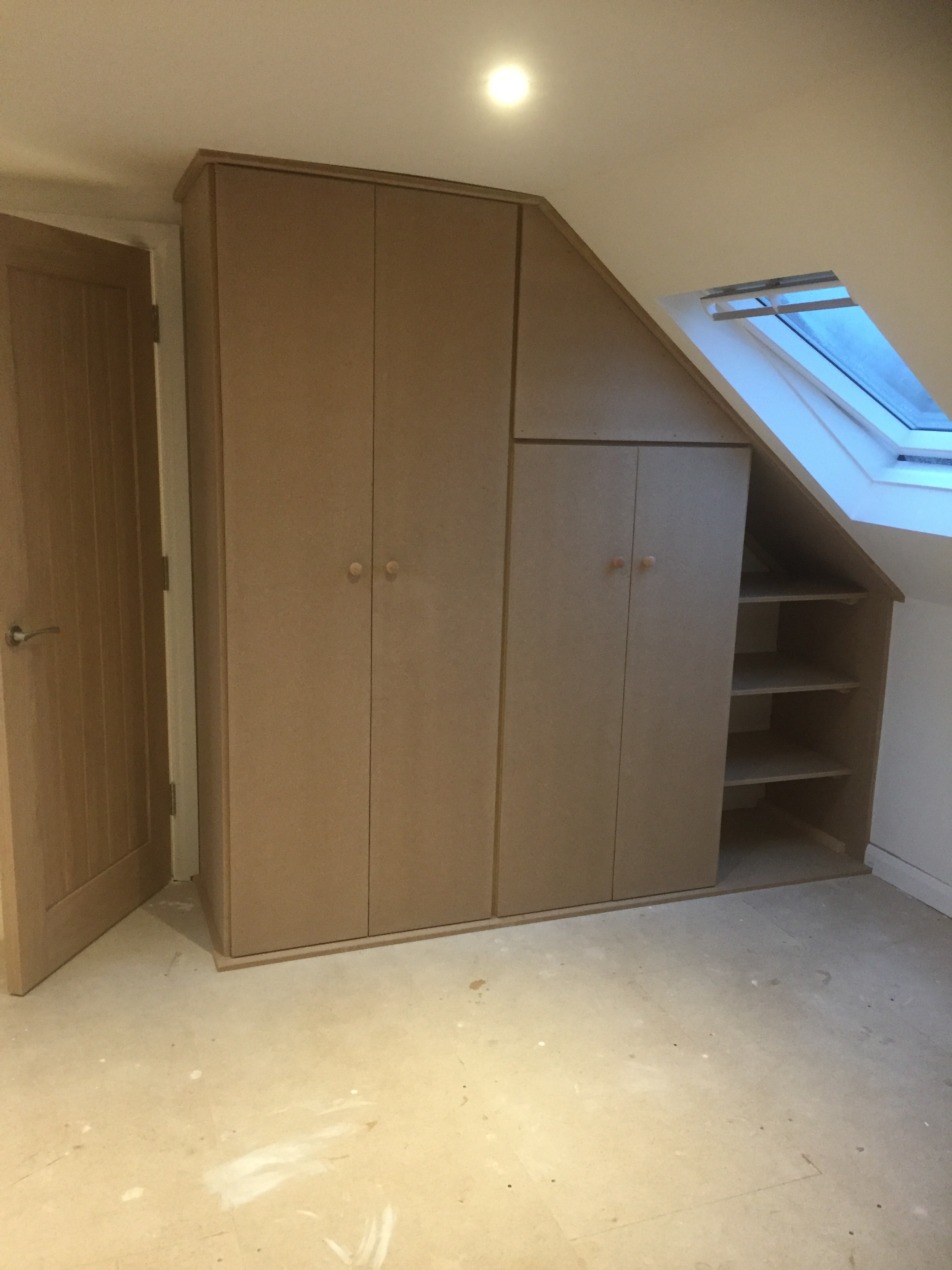 Given the range of trades covered by our team and the still larger range covered by the wider team of tradesmen we regularly work with, SFB can undertake virtually any kind of building or refurbishment work. Below are a few of the other jobs we carry out that haven't been dealt with in previous pages. These may be undertaken as isolated jobs in their own right or as a part of more extensive work.
Flooring
We can lay a floor in any part of the house and advise on the kinds of materials to consider for particular rooms: vinyl, tiles, laminate, traditional floorboards - and type of wood etc. The materials selected will to a large extent determine the cost of the job: 20mm thick, hard-wearing oak floorboards retail at about £50/m2, while 2mm beech laminate flooring (resembling a basketball court) retails at only £3/m2.
Shelving
SFB can assemble both fitted shelving or free-standing shelf units, tailored to the customer's requirements (e.g. specific heights of shelves to accommodate specifically sized books; see The Way We Work for more about our customising approach). Shelving in oak, for example, can cost 4-5 times as much as MDF (medium-density fibreboard) shelving, though the latter can be just as serviceable, even for heavy items such as books. If the room that is to contain the shelving has natural wood floors, however, then painted MDF may not feel in keeping with the overall style.
Decking
A variation on flooring, usually constructed out of doors in the back garden. SFB can carry out the entire job from start to finish: laying the joists, concreting posts, levelling the structure out and compacting the underlying ground to ensure there is no bounce. As a smart finishing touch, lights can be incorporated into the surface for turning on after dark.
Gates
A wooden gate for a drive
We have experience of making, supplying and fitting both single and double gates. One job that comes to mind was for a customer who needed a set of gates to span a 4-metre wide driveway. Their initial idea was for two wooden gates of equal size, 2 metres high by 2 metres wide. We realised, however, that gates of this size would not only be very heavy to open and close all the time, but would also twist significantly, being made out of a natural material. In consultation with the customer, we decided to make the gates of equal height but unequal width, to end up with one small, light gate and one large, heavy one: the former to be used on a daily basis, for easy pedestrian access in and out of the driveway, and the latter to be used on the rare occasions when the customer needed to drive the car in or out.
Door Hanging
supply and fit, or simply fit, new front, back and internal doors, including French and sliding patio doors. This can extend to or involve window fitting/removal, as when we have taken out windows to install French doors in the same opening (expanded by cutting the brickwork down to the floor). Doors can often be fitted into existing frames: you may not need to change the frame and have remedial work carried out on the surrounding part of the house. Cheap, lightweight doors can be obtained for as little as £15, and are quick and easy to fit. Solid, hardwood doors are more expensive and take longer to fit, but are certainly more durable and attractive. Whether you intend the door to be painted or not may affect your choice of materials, as the same finish can be achieved on a budget door as on a high-end one.